Stuur je beste projecten in voor het Blauwe Kamer Jaarboek 2022!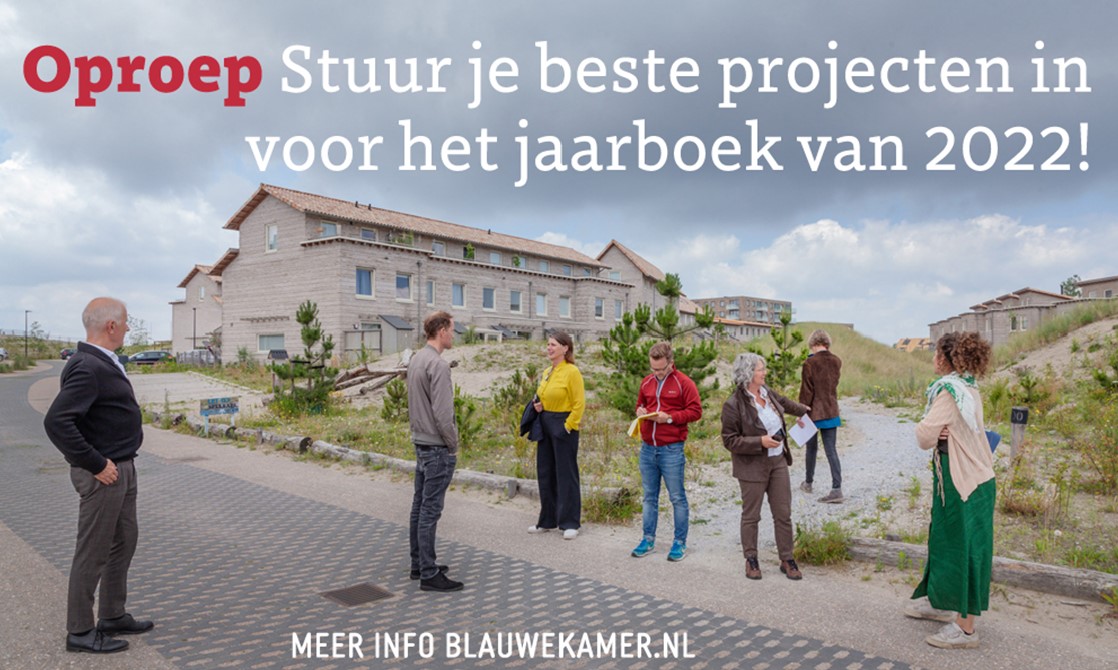 Ieder jaar maken we de stand op van het vak. Een onafhankelijke commissie van vakgenoten kiest de beste projecten uit de stedenbouw en landschapsarchitectuur en het team van Blauwe Kamer verwerkt dit tot een prachtig jaarboek.
Ben jij een ontwerper of opdrachtgever? Wil jij dat jouw project in het jaarboek staat? Stuur dan je beste plannen, projecten of studies in voor de editie van 2022.
De selectie wordt dit jaar gemaakt door voorzitter Esther Agricola, stedenbouwkundige Edzo Bindels, landschapsarchitecten Jana Crepon en Berdie Olthof, en onderzoeker Mike Emmerik.
Ingezonden projecten moeten afkomstig zijn uit de periode 2021-2022 (t/m maart). Alle soorten projecten zijn welkom: van uitgevoerde openbareruimteplannen tot strategische langetermijnvisies, van zelfgeïnitieerde initiatieven tot ontwerpend onderzoek, van herontwikkelingsprojecten tot cultuurhistorische studies en van Nederlands werk tot projecten in het buitenland (mits van een Nederlandse ontwerper).
Speciale aandacht vragen we voor inzendingen die betrekking hebben op opgaven in het landelijk gebied en op stedelijke vernieuwing en wonen. We benadrukken dat ook provincies, gemeenten, ontwikkelaars, corporaties en andere opdrachtgevers worden uitgenodigd om in te zenden.
Het aanmelden van projecten kan via het inschrijfformulier op de website van Blauwe Kamer. Hier kunt u ook de voorwaarden voor deelname downloaden.
De inzendingen dienen uiterlijk 12 april 2022 binnen te zijn op het secretariaat.
Deelnamekosten: 69,50 euro voor de eerste inzending, 45 euro voor elke volgende inzending. De bedragen zijn exclusief btw. Betaling vindt plaats via de site van Uitgeverij Blauwdruk.
Maximaal vijf projecten per inzender.
Elke inzender ontvangt één exemplaar van het Jaarboek 2022.
Het Jaarboek Landschapsarchitectuur en stedenbouw in Nederland 2022 verschijnt begin december in de wintereditie van Blauwe Kamer en als zelfstandige boekhandelseditie.
Contact
Martine Bakker, Generaal Foulkesweg 72
6703 BW Wageningen, 0317 425890
jaarboek@blauwekamer.nl
Eerdere jaarboekedities zijn verkrijgbaar via Uitgeverij Blauwdruk