Veenatelier van Places of Hope winnaar Anita Andriesenprijs 2021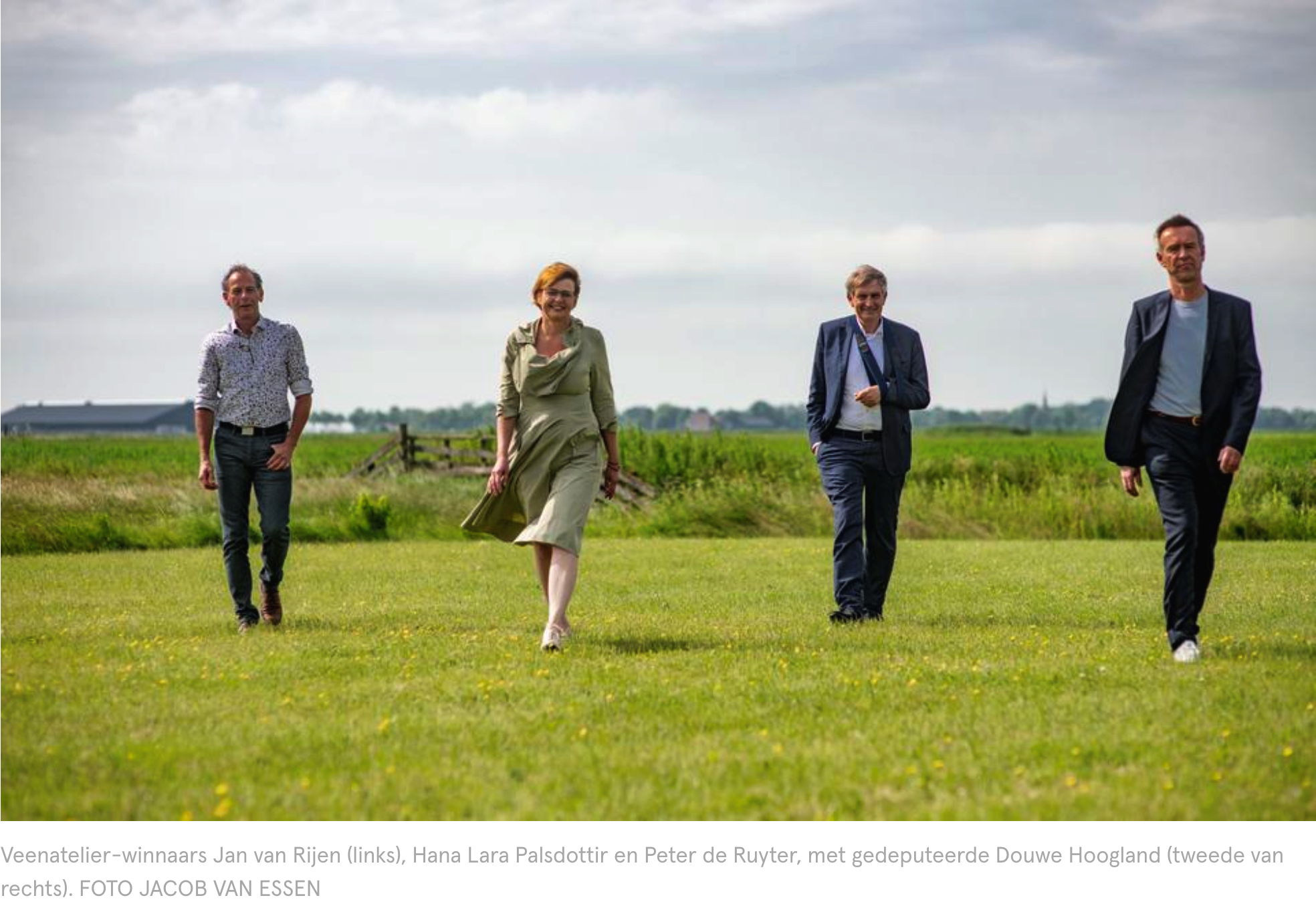 Het Veenatelier van Places of Hope is de winnaar van de Anita Andriesenprijs 2021, de provinciale prijs voor ruimtelijke kwaliteit in Fryslân. Vertegenwoordigers van het veenatelier ontvingen vrijdag 18 juni j.l. bloemen en een bedrag van €10.000,- om een maatschappelijke activiteit te organiseren uit handen van gedeputeerde Douwe Hoogland.
Het gekozen thema voor 2021 was 'ontwerpkracht'. Uit de inzendingen volgden twee genomineerden: De visie op de toekomst van de Boschplaat (Staatsbosbeheer) en het Veenatelier (Places of Hope). De jury heeft unaniem gekozen voor het Veenatelier, vanwege de maatschappelijke impact en de stuwende rol van het ontwerpende onderzoek; "Het veenatelier heeft andere toekomstbeelden voor het Lage Midden van Fryslân voorstelbaar gemaakt, door uit te gaan van een volhoudbaar watersysteem in het licht van de klimaatverandering en de diversiteit van de bodem". Of zoals Hanna Lára Pálsdóttir van het Ministerie van BZK zei bij de uitreiking van de prijs in Weidum; 'Het praten met elkaar en niet over elkaar heeft taboes doorbroken en de urgentie van de complexe opgave in ons laagveenlandschap bespreekbaar gemaakt'.
Klik hier voor het volledige juryrapport. Voor een artikel in de Leeuwarder Courant klik hier.
Het Veenatelier is uitgevoerd in opdracht van het ministerie van BZK door Jandirk Hoekstra (atelierleider), Peter de Ruyter (hoofdontwerper), Atelier des Hollants, Buro Sant & Co, Wageningen Economic Research, PBL, Living Lab natuurinclusieve landbouw, Provincie én Wetterskip Fryslân met inbreng en medewerking van vele anderen.