De Nederlandse Vereniging voor Tuin- en Landschapsarchitectuur (NVTL) will celebrate its 100th anniversary in 2022. To celebrate this occasion, we are organizing a large number of events throughout the year under the motto of 100 milestones, 100 meetings and 100 visions.
The NVTL looks back on a rich history, celebrates, shares passion and knowledge of the profession, but also looks ahead to the next century in which the professional community has an important role in keeping the Netherlands liveable through the use of design power.
Follow all the news surrounding our 100th anniversary on this page, LinkedIn or Instagram.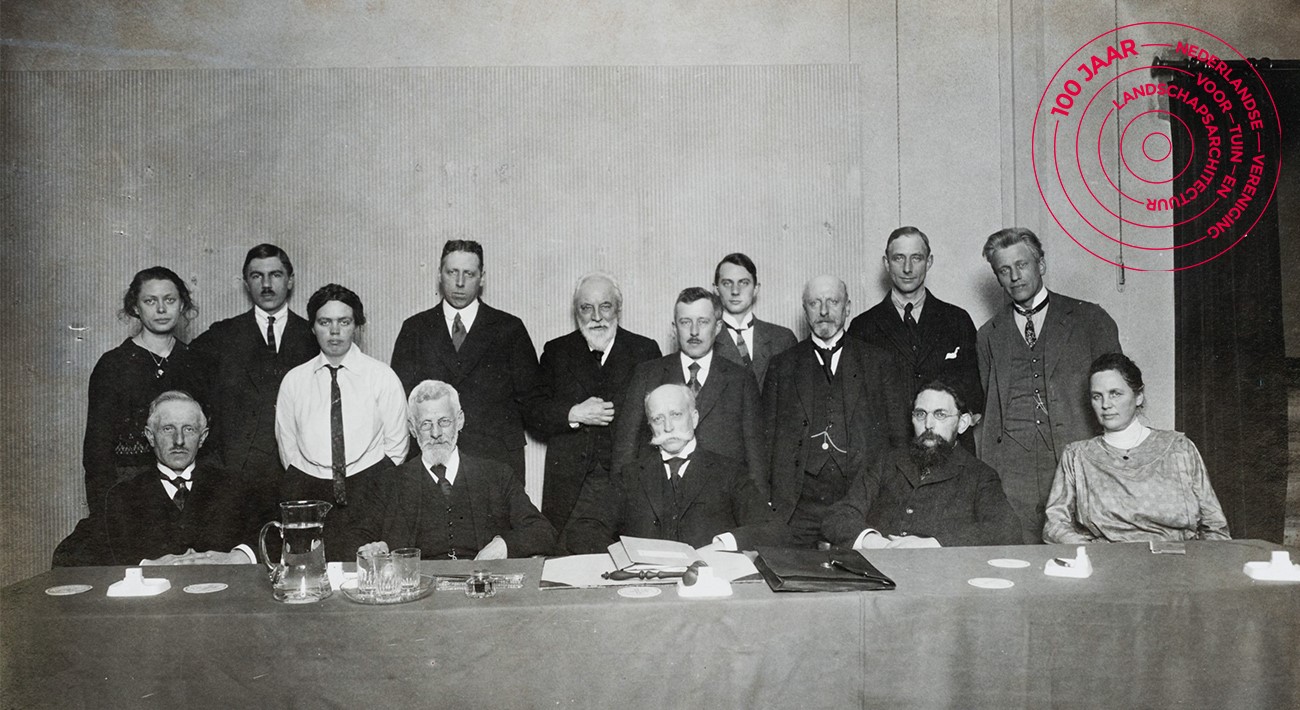 On May 16, 1922, de Bond van Nederlandse Tuinkunstenaars (B.N.T.) was founded. A photo of the first general assembly in 1923 still exists (source: Special Collections, Wageningen University & Research – Library), which you can see above. The board is seated and the members are standing behind the table. Present were from left to right standing: Tine Cool, J.W.M. Sluiter, Jo Bouwens, A.H. Haarsma van Oucoop, J.J. Denier van der Gon, Samuel Voorhoeve, Jan T.P. Bijhouwer, A.J. van Laren, G.A. Overdijkink, Dirk F. Tersteeg. Seated left to right: P. Westbroek, Leonard A. Springer, Hugo A.C. Poortman, H.F. Hartogh Heys van Zouteveen, Jacoba Hingst.
The NVTL was formed in 1983 from a merger with the B.N.T. and the VTL (Vereniging voor Tuin- en Landschapsarchitektuur). Since its foundation the NVTL has been stimulating the professional development of garden and landscape architecture in order to make an optimal contribution to the design and development of the landscape of the Netherlands and brings clients and firms into contact with each other and with complementary disciplines. The NVTL has grown to more than 600 members, consisting of students, young professionals, regular members, agencies and retirees.
NVTL jubileum tarief: 50% korting voor de eerste 100 nieuwe reguliere en bureau leden
21 December 2021
The major transformation of 19th-century Holland was in the hands of the founders of the B.N.T. and the garden and landscape architects and designers who succeeded them. In the first decades parks, estates and gardens were realized for various purposes. After the war, under the guise of 'never going hungry again', almost 85% of the Netherlands was redesigned through land consolidation and land development projects, assisted by garden and landscape architects.
Landscape architects played an important role in all major spatial projects, from the Zuiderzee works to the Delta works and from urban renewal to Vinex projects. A century full of highlights to look back on with pride. In 2022 we will make these highlights clear together in a visualization of 100 milestones. You will soon be able to submit a milestone via this page.
In the form of an event relay, NVTL organizes 100 meetings with (prospective) members, agency members, partners, governments, (educational) institutions and nature organizations that take place in different regions. From webinars to speed dating and from symposium to movie night.
Submit your event
The NVTL tree campaign in the spring, a grand garden party in late spring, the festive presentation of the 100 milestones in the autumn and a surprise in the winter are already on our relay calendar.
Which country do we want to live in? Landscape architects have a major role to play in tackling the major challenges the world is facing: climate crisis, agricultural transition, energy transition, housing challenge, restoring biodiversity, etc. We look 100 years ahead and design the Netherlands of 2122. On the basis of material already developed and yet to be developed, the NVTL collects a range of plans, perspectives, visions and outlooks. During the BNSP/NVTL day on March 11, 2022, we will discuss these and explore cooperation with other spatial disciplines. This day is also the run-up to a "design marathon," in which plans for NL 2122 are offered as a gift to NL.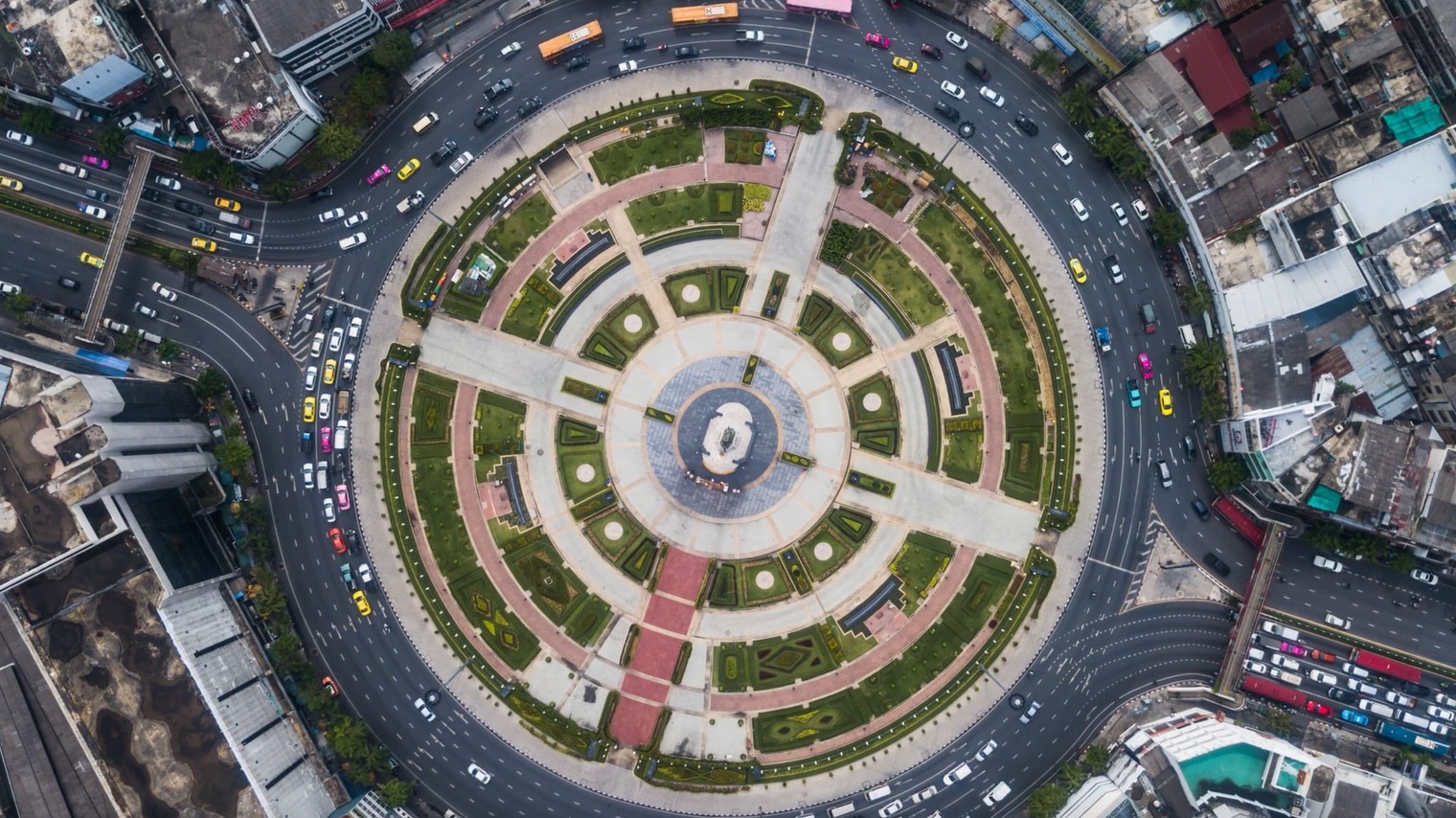 SPECIAL ANNIVERSARY TARIFF FOR THE FIRST 100 NEW REGULAR AND AGENCY MEMBERS
Are you not yet an NVTL member? Then sign up, because the first 100 new regular or agency members receive a 50% discount on the first year's membership fee. Check out the benefits of NVTL membership and read more about the anniversary tariff.
More information